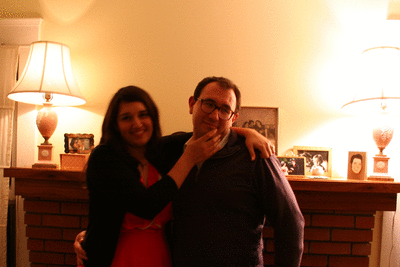 We're engaged! Tony proposed (and I said yes) this past Sunday. Last night we were able to celebrate with some friends and family at my sister's house. I didn't want to post about it until everyone knew so sorry for the delay ;)
Katie threw together a pretty amazing engagement party in a few days. There were beautiful white bouquets, caviar, silly pictures, lots of cat holding, pink champagne, kissing, and fun.
Tony had my ring custom made. It's a cushion cut diamond in a gold "box" setting. I've never seen anything like it, it's absolutely beautiful. I didn't think I wanted a diamond because I really do love colored stones but this is so perfect. I can't help but admire it every time it catches my eye. Of course we've talked about getting married one day but it always seemed like something so far in the future that I was taken by total surprise when he pulled out this ring. He was actually nervous if you could believe it.
My head has been in the clouds since it happened- I am overjoyed.
Today we are headed up north to spend Thanksgiving with Tony's family, which will soon be mine too.
All photos taken with my canon rebel. Sorry they are so yellow I still don't know the right settings for low light. If only I could find that digital camera manual...